Hiya ladies and gents....yep it is this time of the week...
Today is Saturday so that means another wonderfull sketch
As allways our fantastic regular sponsor has a fab prize that you can win when you play along with the DT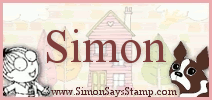 Oke here we go......
So this week Jo gave us a wonderfull sketch to play with thankssss sweetie......
I think it is as allways a beauty.......
And this is what I made for this weeks challenge.....
First I gotta tell ya, I was soooo late with my DT card heheheh and I will tell you the reason why......it is because my daughters Denice and Shannon had the perfect idea......why don't we make "some" cards for the kids in our classes.......and that some were a LOT.....about 55 small Christmas cards....well I had to sit down and cut all the small sizes and stamped up all the images before I could make my own card heheeh.....but ohh welll that is what you do to keep your kids happy......
Oke...here we go now.....
so what do you think about these very pretty snowflakes???? I just got them as a present last weekend...wohoooo....I placed 2 on top of eachother.....and some glitz in the heart of the snowflake...
And here we have Tilda with her lovely friend Mr. Snowman....think these are just tooo darn cute....I colored them with my copics and used lots of Decorating Chalks gives a nice glimmer and glitz into the background, just like it is snowing......
And here is the card when it is finished. Used the fabulous papers from the Christmas collection from Graphic 45....really just a wonderfull vintagy color.......Love it.
So if you wanna have fun this weekend just check out the Sketch Saturday Challenge Blog and while your at it, please look at ALL the fabulous creations from my lovely teamies and don't forget to check out
Bev's
AMAZING card oke..
I would like to enter the following challenges:
Thanks for watching ladies
Hugs Terry xxxx