Hiya ladies and gents....here we go again..wohooooo with another fabulous challenge on the
Simon Says Stamp and Show Challenge Blog
..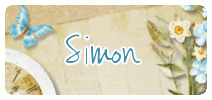 As allways our fantastic regular sponsor has a fab prize that you can win when you play along with the DT from Simon Says Stamp and Show.....and our fab sponsor is offcourse.....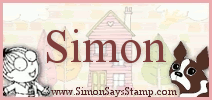 Go check this out it is absolutely crafters heaven.
For this weeks challenge I decided to make 2 candleholders for Christmas, I made these candleholders from two old roles where there used to be ribbon.....I have used the fabulous papers from
Graphic 45 Christmas Past Deluxe Edition
. You really gotta get this paperpad because it has the most wonderfull colors in there and offcourse fabulous images...wow.
Every piece of paper was inked with Distress ink:
Dusty Concord
,
Vintage Photo
and
Forest Moss
.
The flowers are
brown
and
purple roses
and worked on with
Tattered Angels Glimmermists Dazzling Diamonds
to make it real shiny. On the top and the bottom of the candleholder there are
green stones from Basic Grey
.
The lace is from my own stash just like the stars. The stars on top come from a chain, offcourse I could not get my hands off the chain and broke it hehehe, so took off the stars and inked them up and I sprayed them with
Tattered Angels Glimmermist, the Dazzling Diamonds
to give it that special effect.
So this is how one candleholder looks like...when it is finished.....I got the idea from a friend of mine, she made two of these candleholders for my birthday in march......and I thought they looked sooooo nice that one day I would try to make one or two....so I did but this time for Christmas. It is such a nice present to receive but also to give someone special at Christmastime......
And yep I told you that I had made two of the candleholder and here is the picture of the both of them, from above so you can see what it looks like from above. They are the same but with the difference that they are opposites....so the flowers are on the inside of the candleholders and the stars on the outside.....
It looks like the right one is crooked...but believe me it is not....It is not that easy to take a picture with all the glimmers and glitz on it hehehe....so I tried the white background and well this has to do.......The "live" project is allways better looking then on a picture....
So I want to thank you for reading my post and hope that you will join the DT team, I just know your gonna have lots of fun. And while your on the Simon Says Stamp and Show Challenge Blog just pay my AMAZING teamies a visit oke? they have made really AMAZING projects again...wowzerssss .........
Thanks for watching ladies and the most important thing is ...let's have fun outthere.
Hugs Terry xxxx