Hiya Ladies it is Saturday so that means another wonderfull sketch challenge at
This week we are being sponsored by the wonderfull regular sponsor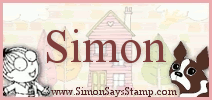 "With over 100,000 items in stock, Simon is proud to offer the best selection of Rubber Stamps, Scrapbooking, Artist Trading Cards, Altered Art, and Paper Crafting Supplies in the world!"
This weeks sketch from Jo is this one....
Isn't it a beauty?
Oke here we go......
This is what I made for this weeks challenge.
I have used this cutie from CC Designs and colored with Distress inks, I love using the Distress inks, but still have to learn a lot . Around the border and on the roses I have placed stickles.....that stuff is just like a little miracle hehehe.
The paper I got from
Claire
.....A while back I had won her candy and really such pretty papers were in the candy amongst other yummie stuff....Thank you Claire I totally love it.
And this is the card when it is finished.....I kept it real simple cause the paper is just perfect the way it is.......I hope you will like what you see and wish you lots of fun playing with Jo's fabulous sketch.....so ladies wanna have fun again this weekend, come on over to the Sketch Saturday Challenge Blog and while you are at it, check out the fabulous creations my fellow DT teamies made....wowzersss
I would like to join into the following challenges:
The most important thing is to have fun....sooooo let's have fun crafting ladies....