Hiya ladies and gents....here we go...wohoo it is Monday so we have another wonderfull challenge for you at.....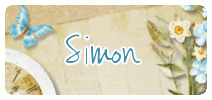 and our regular sponsor is
the wonderfull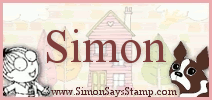 So here we go with this weeks challenge.....
I gotta tell ya I really like to alter anything I can get my hands on....this time I altered an "old" perfumebox, I have used the fabulous papers from
Graphic 45 LE ROMANTIQUE 12 x 12 Paper Pack Vintage Love
, did you ever use this paper??? It is so wonderfull and the colors are just to die for......the papers are worked on with
Glimmermist
and I have used lots of
roses and cherry flowers.
I don't think I have to tell you that I just love roses and flowers......
This is the side of the box.....so you can see the beautifull papers that are used on the side......
Underneith the image I have used the
Martha Stewart Doily Lace Punch
. I just love the Doily Lace Punch....and I am so glad that I purchased this one.
All the borders are worked on with Distress inks from Tim Holtz, the colors that she used are
Vintage Photo
and
Rusty Hinge
.
This is the top of the box and I have used this sentiment that I won in the candy from
Lynne
....isn't it wonderfull.....I just love it....I have used the Distress inks on it and Glimmermist and this way upclose you can see the pretty shimmerz......
The lace is from my own stash and the other accesoires too, the image at the bottom of the perfume box is from the internet, I hope you like what I have made for this weeks challenge and if you wanna have fun at the beginning of the week ladies and gents, come on over to the challenge blog and check out the unbelievable and amazing creations of my fellow teamies.....and if you join in you even make a chance on winning a fabulous prize....so what is keeping ya, put your thinking cap on and let's start crafting.
Most important thing is......Let's have some fun outthere...
Thanks for watching
Hugs Terry xxxx