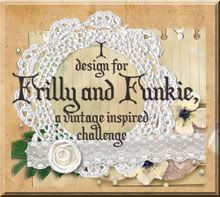 I still cannot believe it, but it is TRUE....I am chosen for the
FRILLY AND FUNKIE Designteam

....
I am such a happy and lucky girl to be working together with the very talented girls that are in the team. My new teamies are Sue, Rebecca, Trace, Donna, Jenny and to be working for such an wonderfull DT leader is just fabulous, thank you so much Linda for the opportunity to be working together with such an amazing group of ladies....I also want to Thank you Anita, Marjie, Teresa and

Terry

for all your inspiration and I am so sorry that you are leaving the DT team. It really would have been so much fun working alongside you girls. I wish you all the luck in the world and I will offcourse check out your blogs for your amazing art.
I am so honoured to be one of the lucky girls to be working together with all the amazing teamies....
2013 really starts out just great and I just know it this will be just a FABULOUS year...wohoooooo
Hugs Terry
xxxx