Goodmorning ladies and gents.....today is Saturday so that means we have another wonderfull Sketch Challenge at the
Sketch Saturday Challenge Blog
.....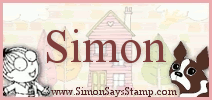 "With over 100,000 items in stock, Simon is proud to offer the best selection of Rubber Stamps, Scrapbooking, Artist Trading Cards, Altered Art, and Paper Crafting Supplies in the world!"
And some other news we have......we have two new lovely ladies on the DT from Sketch Saturday
.....
Susi
and
Tracey
......
And they made their first card as Sketch Saturday girls....and do check out the Challenge Blog were you can find the wonderfull cards they made.....
Oke here we go with Jo's fabby sketch
and this is what I made for this weeks challenge
I have colored this cute little Christmas girl from LOTV, used the Spectrum Noirs and for the snow I used little snowflakes and Stickles.....to give it some extra...
I punched some snowflakes and placed the cute little roses on top and underneith the image I placed lace that looks a lot like snowflakes....
And the sentiment is worked on with Decorative Chalks....
And here is my card when it is finished....The paper that I have worked with is from Basic Grey, the special pack for Christmas....and I totally love it......so if you wanna have fun crafting this weekend and for the entire week, then come on over to the
Sketch Saturday Challenge Blog
and while your at it, check out the fabulous creations from my teamies....and maybe you can visit their individual blogs.....
I would like to join into the following challenges:
Thank you very much for visiting my blog and if you would leave me a comment that would be just great. Thank you