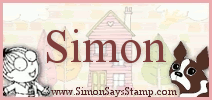 "With over 100,000 items in stock, Simon is proud to offer the best selection of Rubber Stamps, Scrapbooking, Artist Trading Cards, Altered Art, and Paper Crafting Supplies in the world!"
Come on over and check out the store, it realy is crafters heaven on earth...
Oke here we go with the sketch
Isn't it a beauty?? Thank you Jo I really had fun with the sketchie...
And this is what I made with it.
I have played with this cute little girl, she is called Daisy and yep she is one of my favourites.....I have colored her with the Spectrum Noirs and yep the background was worked on with the Decorative Chalks.......the Sentiment, I just love this one....it is from LOTV...and it really speaks of the truth.....
Oke and here is my card when it is finished.....I have played with those fabulous papers from Graphic 45, Baby and Bride, they have such fab colors in it.....I placed some tiny little butterflies and the pearls I made myself with the Perlenpen....it is not that easy as it seems but I think it worked out pretty good eh?
Oke guys you wanna have lots of fun??? You do now eh? Then come on over to the
Sketch Saturday Challenge Blog
and do join into the challenge to make a chance of winning a fab prize from our regular sponsor Simon Says Stamp...and while your there check out the Fabulous cards my teamies made....you will love them all.....
Have fun....
I would like to join into the following challenges:
Thank you for watching and visiting my blog....if you would like to leave a message go right ahead.....I just love messages....thanksssss
Hugs Terry xxxx