Thank you all for entering my DT week challenge last week, there were so many fabulous entries and I want to thank you all for joining in....
Today we have another fabulous challenge at Sketch Saturday check this out...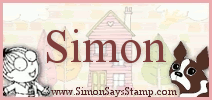 "With over 100,000 items in stock, Simon is proud to offer the best selection of Rubber Stamps, Scrapbooking, Artist Trading Cards, Altered Art, and Paper Crafting Supplies in the world!"
A very generous
$25 gift certificate
will be awarded to our lucky winner this week to spend on goodies in the SSS store!
Thank you to all the lovely ladies at SSS xx
And this is this weeks sketch...made by my very talented teamie Jo
Isn't it a beauty.....wohoooo
Oke here we go this is what I made for this weeks challenge.....

I have colored this cutiepie with my Spectrum Noirs..they are such a delight to work with let me tell you...and yes the background is worked on with the Decorative Chalks...I know that you allready know LOL but they are also so nice to work with....
I picked these beautifull roses to sit next to the image and I have attached some pearls from a string.....and the colors even fit perfectly LOL
Just because I care is the sentiment I have used to fit this card.....I thought this was a nice one to use....and the borders are made with the Martha Stewart Punch......
And this is my card when it is finished......I think it turned out pretty nice....what do you think??? I worked with the Beautifull Papers from Graphic 45, the Baby and Bride ones...I just love these colors....I know that you think that I only love the purples LOL...but nope I love these colors too.....so guys you wanna have fun too......then come on over to the Sketch Saturday Challenge Blog and even make a change on winning the Fabulous Prize from Simon Says Stamp wohoooooo and while your on the Challenge Blog, check out my teamies fabulous creations oke? They are absulutely great wohooooooo....
Oke...that was it..LOL.....one more thing:
I would like to enter into the following challenges:
So that is it for now ladies......
I hope you will have fun this weekend......and thank you for your lovely comments
Hugs Terry xxx