Hey there ladies here we have another fab Saturday, what better way because of the rain to join into the challenge at the
Sketch Saturday Challenge Blog
.....
Sadly we have to say goodbye to
Leonie
who has decided to step down from the Design Team. Leonie,we are going to miss you sweetie, I wish you all the luck in the world and hopefully we will talk again.....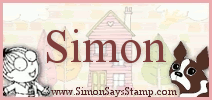 "With over 100,000 items in stock, Simon is proud to offer the best selection of Rubber Stamps, Scrapbooking, Artist Trading Cards, Altered Art, and Paper Crafting Supplies in the world!"
To see all the latest products instore please click
HERE
To see the
exclusive Simon Says Stamp range
, please click
HERE
Not forgetting their HUGE
Magnolia
range
HERE
All things
Tim Holtz
including newly released products can be found
HERE
They have
new Copic colours
HERE
any amount from $5.00 - $100.00 is available, ideal to send to a crafty friend if you're unsure of what to buy them eh?
A very generous
$25 gift certificate
will be awarded to our lucky winner this week to spend on goodies in the SSS store!
Thank you to all at SSS xx
Here is this weeks sketch that Jo made for us......
Isn't it a cutie.....I really had fun with this one Jo, thank you sweetie...
and off we go with what I made for this week....
I have used this little girl from Lily of the Valley....I really like her and colored her with distress inks...I know I have got lots of learning to do with coloring with distress inks but I did oke?? didn't I......
This digi sentiment is from Cuddly Buddly I purchased it yesterday and I really like it a lot
And yes I have used my favourite colors, purple...remember this is my favourite color hehehe....so I have made some flowers with the Retro Flower punch..and placed some spacers and pearl pins in the middle......

The lace that I have worked with was white and I did not have the right colors, so I MADE the right colors with distress inks.....the purple and green are Dusty Concord and Peeled Paint, which you can purchase at the Simon Says Stamp Superstore.....the Punches border is from a Martha Stewart Punch and yes you can get it at the store too...
And here we have the whole "enchelada" this is my card when it is finished...the papers are sooooo beautifull and are from Bo Bunny....the Jazmyne kind...don't you just love it.....I know I do..LOL.....I hope you like it and you want to see more of the beautifull creations??? Then come on over to the Sketch Saturday Challenge Blog and check out the fabulous creations my teamies made...my goodness absolutely beautifull ladies.....
So last thing I want to tell you is to have lots of fun and doo join in oke?
Thank you for watching and listening....
I would like to join into the following challenges:
Crafty Catz Weekly Challenge: Challenge #90- Vintage Look
Charisma Cardz Challenges: Challenge #27 All about flowers
Creative Belli Blog: Challenge #121 Custom made bellies
: the flowers
Ladybug Crafts Ink TLT BLog: Challenge #35 Summer Birthdays
Ruby's Rainbow Challenges: Challenge #7: Happy Birthday
Sentimental Sundays: Challenge #62 Anything goes plus a sentiment
Lollipop Crafts: Summer Challenge: Anything goes
Bearly Mine Challenges: Challenge #14: Anything goes
Try it on Tuesdays: Flower Power
Thank you for your visit to my blog and if you would leave me a comment that would be just great, thank you
Hugs Terry xxxx