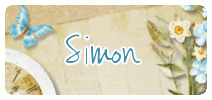 Our fabulous regular sponsor is offcourse....
and yesssss they have another wonderfull prize for a winner so better check out the Challenge blog ladies and gents, maybe your the winner.......if you join into the challenge.....
So here we go.....
So this time I made a Destiny Box, the destination of
The Hand from The Tim Holtz Collection
is to get into the box where there are all sorts of goodies. I used distress on the Hand and also the Crackle Accents from Ranger.....
Check out the strawberries, can you see that I have used the Crackle Accents on that one??? I can LOL.....
On the laced border, I have placed some gems......really shiny ones, too bad the picci does not show the shinyness LOL.....
So and that is it for this week ....this is the finished Show us Something with a Hand challenge.....you like?? and wanna have fun playing along....then come on over ladies and gents, I know you will have lots of fun.....for sure....and even make a chance on winning a great prize from our regular sponsor
wohoooo and while your checking out our Challenge Blog, take a peek on the AMAZING work from my even more AMAZING teamies.....wowwhoooooo they really mad some special and amazing creations this week.....
Have fun outthere and craft away.....
Thank you for watching ladies and gents and if you would like to leave me a comment thank you very much, I really like reading them.....
Hugs Terry xxx