Hiya ladies and gents......wohoooo and your not gonna believe it but yep another Fabulous Monday and that means another fabulous challenge over at the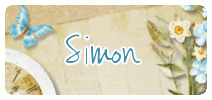 Our regular sponsor
Simon Says Stamp
is giving away another fabulous prize for one lucky winner......
So what we want you to do is make something that is NOT a card, that could be a box, photoframe or whatever you want to......so what are you waiting for guys...come on over....
I made a project for this week and noooooo it is not a card.....Baby's and boxes, make a Babybox....so I decided to make a cute little babybox where you can put something in for a baby...could be little tiny socks or a passifyer or whatever small fits in there....
First I was trying to make my own flower from the
Tim Holtz Floral Die
......and I must say it is so much fun to get that fiber into the cuttlebug and after I got it out, I colored the flowers seperatly with the Distress inks....you should have seen my hands LOL.....but no worries I have a little cleaning block to clean my fingers all up. So nothing is showing anymore LOL....This picci is offcourse taken from up top.....so it looks like the flower is flat....but I can tell ya LOL it's not....
I have used the
Vintage Photo
,
Victorian Velvet
,
Forest Moss
and
Fired Brick
on the flower....and the most beautifull papers that I have worked with are from
Grahic 45
. The Baby 2 Brides....wowzerss absolutely wonderfull colors and images on this paper.....and this is the front of the box....
And this is the side of the box....can you see the little passifyer?? I have worked with the paperdistresser on all the borders of the paper and placed some of that yummie lace.....
I had a lot of fun making my Anything but a Card project.....
Even the inside of the box is worked on with the yummie paper and on the front a few pearls....
and my project is done for this week.... I hope you like it and hopefully it gives you a few ideas to make your own project for the challenge this week over at the
Simon Says Stamp and Show Challenge Blog
, so come on over and do join in ...you will have lots of fun I know for sure that you will....and while your there check out my Teamies and what they made I can tell you it is absolutely amazing what my teamies created for this week....wowzersss They Amaze me each week...Have fun ladies and gents....
Thank you for watching and your lovely comments....