Hiya all....here we are again right before Christmas with a brandnew Challenge at the
Simon Says Stamp and Show Challenge Blog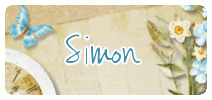 The Challenge for this week is Show us your Yesteryear....
I know I know...I see you thinking.....
At first I did not know what yesteryear meant, but with a little help from her amazing teamies I do now know...It is something old and vintagy......After I had my thinking cap on I decided to make a very "old" decorated Christmas tree.
And this is my finished project......I think it worked out pretty good...hehehhe...love the ribbon and the papers from Graphic 45 are just great......
So guys wanna have fun again....then come on over to the Simon Says Stamp and Show Challenge Blog and just check out my AMAZING Teamies and what AMAZING projects they made.....Every week they amaze me......soooo beautifull
So come on over oke and check it out you won't regret it. And you can even win a HUGE prize from our AMAZING regular Sponsor.....