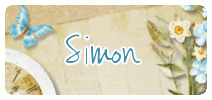 Hiya ladies, it is Monday...and wohooo we have another "normal" challenge at Simon Says Stamp & Show....I have to say thank you to you all for all those wonderfull and lovely comments that you have given me for the Blog Hop....really you should have seen me blush hehehe....
Oke here we go onto the Challenge for this week.....
This time the challenge is Your Grunge......I can hear you think what is grunge.....well......I was thinking the same thing being Dutch and all.....but I asked around and grunge is making it old, .......soooo let get your thinking cap in gear and let's get your grunge....
Mine is right here......
I had so much fun making my "own" flower, I made it with those fabulous wings of the
Tim Holz Sizzix Die Fancifull Flight Bigz Butterfly Alterations
and I must tell ya, I just love this Bigzzzz Butterfly you can do so many things with this Die. I placed the wings, and sprayed them with Glimmermist, this time the
Tattered Angels Glimmermist Old Lace
and a few pieces of rope on top of the wings.
This Vintage lady is from a image that I printed out.....I found her on the internet if you want to find her too......just type in vintage and you will find enough sites where you can find Vintage images....I placed her on a nestabillitie and I used
Vintage Photo Distres Ink
all around her
So do you Allready know what I made???????No......hehehehe
So this is what I made......a little Surprise Purse......that is what I call it....
It is a purse made out of a template that I once got from a friend....it was just sitting there in my pc waiting to be used.....
These papers are absolutely georgous......I have placed some Martha Stewart Punched out papers on the side.....and my project for this weeks challenge is ready to go......
So ladies and Gents you wanna have fun....then come on over to the Simon Says Stamp & Show Challenge, cause this project was really a lot of fun to make and my Fellow DT Teamies have made absolutely fabulous projects...just check them out oke.....you won't regret it.....
Thanks for watching and have fun
Hugs Terry xxxx