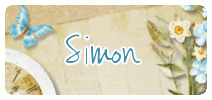 I used Random.org to choose the winner of my Stamp-Tember Blog Hop Candy, but I cannot get it to be visual on my blog......so I will do it this way......
The winner of my candy sponsored by our GREAT Sponsor is ......
TADAAAAAAAAAAAAAAA
Number 163
And that issssssssssssssss
This is what Kim said.....
Amazing creation and I could use that giveaway...Have a great day!
Thank you Kim for your lovely comment and Congratulations......and I want to thank everyone who entered the Blog Hop and left a lovely comment, but too bad that there can only be one winner.....
Thank you for joining us .....
KIM COULD YOU PLEASE SENT YOUR DETAILLS BY EMAIL AND I WILL ARRANGE THAT OUR GENEROUS SPONSOR
SIMON SAYS STAMP
WILL SEND YOU YOUR PRIZE......THANK YOU..