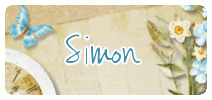 Ladies I have a
BIG
announcement to make....
I have been chozen to be a part of the wonderfull and international team at the new
Every Monday there will be a fantastic new Vintage Challenge and you can win really fantastich prizes.....
The Style here is inspired by the likes of Tim Holtz, Wendy Vecchi,
7 Gypsies and Graphic 45 - among many other Vintage enthusiasts.
Over the next few days my Fellow DT members will introduce themselves on the Challenge Blog so you can "meet"All of my fellow DT members......
I am so looking forward to be working together with them and am so honored to ben chosen for this wonderfull new Challenge Blog.
Hugs Terry xxxx