Hiya Ladies, I must tell you wow what an amazing respons we had on the first challenge at Simon Says Stamp and Show....it is unbelieveble......farout and just
fantabulous....(
hihih just learned a new English word hihihi)....but ehhhh lets go to another fabulous challenge at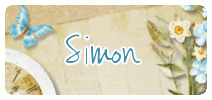 Here we go....
This week the challenge is......
Your Studio490 Style
Check out what Studio490 is all about on Wendy Vecchi's blog, just click on the link above and you will find out.
I did not think that I could come up with something, I don't have any stuff from Wendy Vecchi but I gotta tell ya ladies, you don't need to have any stuff from Wendy causeeee...you can make your own Wendy Vecchi style....or Studio490 Style...that's what I did.....
So I was sitting at the table and thinking what I could make....and suddenly my fingers started to ich.....and I got some cardboard and started to color is with my Distress inks....a few colors I used.....I punched a few flowers from the Retro Flower Punches and started to color those too..and yep I made my own colored papers and flowers.....wow never knew I could do that but I did.....jippieee....SO ladies if I can do that.....YOU can too.....
These are my punched out Retro Flowers and I used Tim Holz Distress inks all over it....and the little stiched lines are from the gelly pen, the heart of the flower is a gem. And the button is from my mom's nittingbasket (hahaha don't even know if this is the right word...)
And this is the other flower on the other side of my project...placed some lace underneith......
These hearts are from the Nestabillities I cut them in my cuttlebug...and yep also colored the hearts with Tim Holz Distress inks...and placed a little rope on the heart and a few headpins on top.
Now I hear ya all thinking what in the blazes name did she make......hihihih...in a minute you'll know...
Well this became a very special project for me....
yep...this handsome man is my Father and the lovely bride is my Mom...don't they look absolutely stunning......I think so.....why is this so special ....??? well my Father passed away in '95 so this is very special for me....So I made a photoframe from my Mom and Dad........and I must say I am very pleased with the result.....And I can assure you that, that doesn´t happen often so I am really pleased....
Even made my own holder for the card....never done that before either....
So ladies what do you think? Hope you like it....
So wanna have fun and make a chance on a very nice prize ladies.....
Doesn't this look absolutely georgous......This fabulous prize is being sponsored by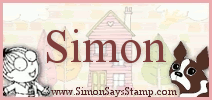 Isn't that just wonderfull....
And while you are at it, just check out the STUNNING creations of my Fellow DT members wow....they just did a fantastic job.
Thanks for watching ladies......
Have Fun
Hugs Terry xxxx